This website is no longer maintained or in current use, please go to www.classiccamperclub.co.uk the original specialist club for all motorcaravans built in a bygone era. Vehicles must have been built up to, and including, 1990 in order to qualify for membership.
Home-converted living vans and motorised caravans have been in evidence since the advent of the internal combustion engine. Despite early attempts by several coachbuilders to make popular the 'motorcaravan' (1920s & 30s), it would be not until the mid-1950s that this leisure activity would gain any degree of popularity in the UK.
Those early production motor caravans were the ancestors of today's luxury examples. Early pioneering stalwarts included, Martin Walter (Dormobile), J P White, Peter Pitt, Maurice Calthorpe, Central Garages (Paralanian), Bluebird and a small number of other specialist coachbuilders. Base vehicles utilised for conversion in the 1950s included, Bedford CA, Austin 152/Morris J2, Volkswagon and Ford Thames.
The period from the mid-1950s until the introduction of VAT in 1973 are often referred to as the 'boom years' for the sales of motor caravans in the UK. In excess of 15,000 units were being sold in the UK prior to the introduction of VAT, as a matter of interest figures today are only in the region of 9,000!
It is fairly safe to assume that a large number of motor caravans produced during the 'boom' years have survived. Many of the respected names from within the industry at that time are represented within the ranks of the Classic Camper Club.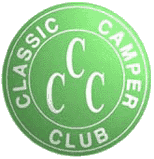 Now that the club has been in operation in excess of 19 years, I think it safe to say that those lovely motorcaravans of the past are now very much part of the 'classic' scene in both this country and abroad. Classified advertisements within the various classic publications now often carry the words 'classic camper! In addition, just about every classic vehicle magazine worth its salt has carried articles in recent years on the subject of 'classic motorcaravans'. Leading motorcaravan publications in the UK now also carry regular pages dedicated to older 'vans.
I am extremely proud of the fact that this club has enormous respect from within the UK classic vehicle and motorcaravan scene, for it's friendliness, (the club is not committee run but does listen very carefully to members ideas and suggestions.) Members play an active role within the club, weekend 'camp n natters' are always well attended and knowledgeable members offer their services for free as 'technical consultants'.
Although the club does not operate its own spares service (there are simply too many base vehicles!) we do keep an up to date list of suppliers. Members are also able to advertise free of charge in the club journal, this includes parts wanted, parts for sale and of course, complete vehicles.
Benefits of membership
So what are the benefits of belonging to the number one, UK classic motorcaravan club? I hope that the vast majority (if not all) of the full list will wet your appetite
| | |
| --- | --- |
| | That sense of 'belonging' to a recognised specialist club |
| | Excellent bi-monthly club journal 'Morning Campers' |
| | A varied choice of weekend 'camp n natters' situated around the UK |
| | Eagerly awaited annual 'National Rally'-the biggest event in the club calendar |
| | Discounted insurance |
| | Technical support at the end of the phone from club members with a particular one-make knowledge |
| | Free advertising within Morning Campers |
| | Club archive resource of model profiles |
| | Fabulous choice of club regalia |
| | Assistance with tracking down that elusive spare part |
| | A club website to be proud of, it has already one an award! |
| | 'Help at hand' scheme operated by members for members |
| | The assurance that you are a member of one of the friendliest clubs on the scene |
We sincerely hope that you enjoy these web pages, if you do own a motorcaravan that is eligible for membership then come and join us. Please download the application form to be found elsewhere on this site. We look forward to meeting up with you!
Dilys Watts
(Club Secretary)